The U.S. Air Force Osan airbase is often touted as a key installation ensuring peace on the Korean peninsula. In fact, it is extremely vulnerable to attack and one of the least favorite duty stations in the world. Osan should be downgraded to a wartime contingency airbase like the five pictured in light blue on the map below. USAF activities at Osan should move to its Kunsan airbase further south, well out of North Korean artillery range, thus allowing the USAF to shed excess airbase capacity. The U.S. Army is trying to consolidate dozens of small bases along the DMZ into a few large camps in Korea without displacing locals. Turning Osan over to U.S. Army is a simple solution. The USAF should leave two hundred airmen at "U.S. Army Osan airfield" to refuel visiting aircraft, oversee wartime aviation munitions bunkers, and assist visiting Air Force squadrons. The USAF air mobility squadron could also remain to support the Army.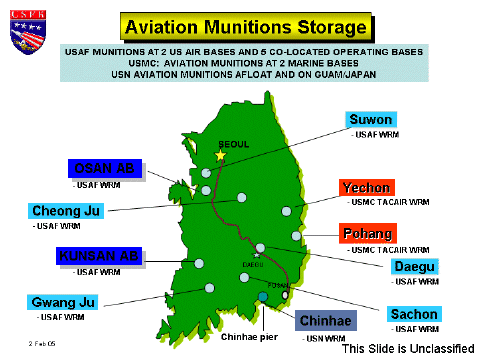 The top American General in Korea recently proclaimed that North Korea has the world's largest artillery force that can rain destruction on Seoul, just 30 miles away. It doesn't bother the General that North Koreans can also rain rockets and artillery shells on his major Osan airbase 40 miles from the DMZ. While the threat of North Korean nuclear weapons may be remote, if they were to employ them, Osan would be a primary target. The North Koreans lack nuclear armed ballistic missile technology, but they have supersonic fighter-bombers. These are outdated, yet one could carry a nuclear weapon for a one-way supersonic attack. It could could fly low and fast and possibly reach Osan before it was intercepted and shot down. The South Korean Air Force is ten times better than the North's few airworthy, ancient MIGs that are rarely flown, yet a MIG might slip past the DMZ air defenses for a few minutes.
If war breaks out, it is certain that hundreds of rockets and artillery shells will immediately pummel Osan, which may include chemical warheads. Flight operations will cease as aircraft flee or take cover in shelters. Airbase operations will shut down as many airmen rush home to ensure the safety of their families. The Korean civilian workers will go home to care for their families, and most American civilian workers will remain in bunkers with their families while demanding immediate evacuation. Osan will prove useless if a war erupts. Generals plan to move aircraft and ground crews to contingency airbases further south, but roads will be clogged and the security and feeding of military and civilian families stranded at Osan presents a major problem. This same problem arose when World War II erupted. The primary concern for our military in the Philippines became the evacuation of military families and American civilians out of the war zone, which disrupted defense plans.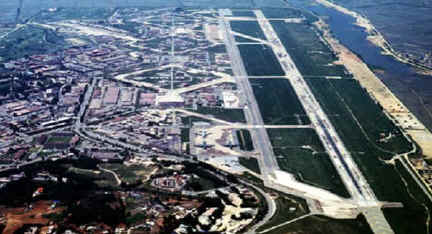 After a few weeks, North Korean artillery shelling should diminish as airpower from other airbases and counter-battery artillery fires suppress them. Engineer units will repair the runway and remove wreckage to allow USAF squadrons to operate from Osan while American families are evacuated. It will then be obvious that keeping aircraft, airmen, and families in a wartime shooting gallery was madness! Osan is vulnerable to artillery and missile attack within minutes, and hundreds of airmen, civilians, and family members will be killed, while several $100 million dollar fighter aircraft are destroyed on the ground..
The USAF Must Close Excess Airbases
Closing Osan would help the USAF shed excess infrastructure. Over the next three years, the Air Force plans to retire 137 F-15s, 177 F-16s, and 9A-10s to save $3.4 billion. With the F-22 program ending with less than half the F-15s replaced, the Air Force is pondering which fighter wings to clip. The Air Force fleet of F-16s and A-10s will be replaced with half as many ultra-expensive F-35s. Air Force Generals have yet to present a plan to trim the excess base infrastructure left as these aircraft disappear. It is doubtful they will suggest another round of domestic base closures during a national economic depression. One solution is to pull out of Osan and deactivate the 51st Fighter Wing and its ground support groups. That eliminates 24 F-16 slots toward the 177 needed.
The 24 OA-10s can move south to Kunsan and join the 8th Fighter Wing, which only has 48 F-16s. Yet another reason to close Osan (and perhaps Kunsan too) appeared in a 2011 GAO report on Asian basing plans. Air Force Generals say that pilot training opportunities in Korea are so limited by airspace restrictions that Korean based pilots must fly to Alaska to train and remain proficient. It would be less costly to keep those fighters and their families at underutilized USAF bases in the USA and fly to Korea or Japan should war breakout. The USAF deactivated its A-10 squadron at Eielson AFB in Alaska in 2007, so there is room at that strategic Pacific base. There is talk of closing Eielson due to budget limits. Closing Osan and Kunsan is a better plan, moving the OA-10s to Eielson and moving the three F-16 squadrons with 72 F-16s to replace half of the 177 due retirement.
The USAF must shed fat, and is implementing a plan to eliminate another 6000 airmen by 2012. Without closing airbases, it will hollow out existing units. There are 10,000 airmen stationed in Korea to support just 96 combat aircraft, plus thousands of American and Korean civilians working on the two American airbases. Pulling out of Osan allows the elimination of 3000 airmen slots in base operations at Osan and the staff and support groups of the 51st Fighter Wing, plus another 3000 civilian positions. Ironically, pulling out of Osan and eliminating the 51st Fighter Wing staff would save money to allow the Air Force to procure, man, and support additional F-35s at another airbase.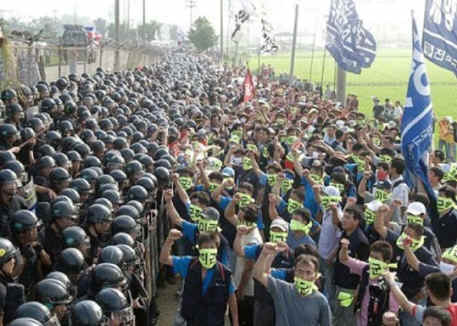 The American military investment in Osan will not be lost. The huge U.S. Army's Camp Humphreys is nearby, so the Army can occupy Osan facilities. Another reason to leave Osan is because most airmen hate it. Korea has very cold winters, and many of the locals are unfriendly while some hold protests outside the main gate. Limited military housing means that most airmen serve one-year "unaccompanied" tours without their family. Soldiers from the U.S. Army also endure lonely tours, but that would ease if soldiers could use vacated USAF housing units at Osan. Reducing the number of airmen in Korea would also ease tensions with Koreans angry at the large U.S. military presence.
Some may argue that Osan would prove valuable if a conflict with China erupted. In reality, it would be a key target for Chinese missiles or surprise air strikes. Moving American aircraft, airmen, and families out of the range of surprise North Korean, Chinese or even Russian firepower is wise. The U.S. military also has six major airbases in nearby Japan. American aircraft can easily fly to Korea and operate after the shooting erupts, choosing from dozens of airfields in Korea depending on runway conditions and enemy activity, while family members sleep soundly far away.
Despite the logic of pulling American aircraft and airmen out of Osan, business interests and rigid American Generals will conspire to keep the millions of Air Force dollars flowing to Osan each month. They will implement a political delay tactic by insisting changes cannot occur without consent from the South Korean government. One can imagine the reaction of the South Koreans to losing a couple thousand Korean civilian jobs at Osan, plus thousands of off-base jobs that Osan spending supports. These "negotiations" would drag on for years, until leaders in the Pentagon and White House move on to other issues. In reality, no permission is required since the USA is not expanding any base or adding troop levels. The Air Force would simply deactivate some units, move some aircraft elsewhere, and transfer base support functions to the U.S. Army. This would be an internal matter that requires nothing from South Korea. This plan can be implemented within two years, and American leaders must insist on prompt action in ensure success.
Carlton Meyer editorG2mil@Gmail.com
©2011 www.G2mil.com