The U.S. Air Force's famed 48th Tactical Fighter Wing (TFW) was an important unit during the Cold War. Based at RAF Lakenheath in England, it was in a key position to protect Western Europe from a possible Soviet invasion. The Cold War ended two decades ago, yet the 48th TFW is still there! Meanwhile, the Air Force continues to reduce its fighter squadrons to about half the number at the end of the Cold war. Its budget is higher today, but Generals feel that smaller numbers of ultra-expensive advanced fighters are better than larger numbers of "legacy" fighters that are still in production, like the F-15SG and F-16E. The Air Force closed some fighter bases a decade ago, but needs to close more to eliminate excess infrastructure.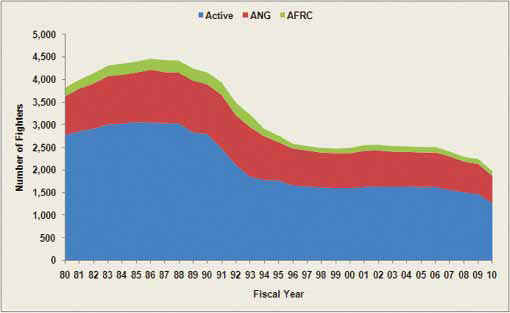 The Air Force justifies airbases in Germany and Italy since they are close to U.S. Army bases and potential areas of conflict. However, RAF Lakenheath is located in the world's most peaceful region, and one of its most expensive. The Air Force rotates personnel every three years, which requires the shipping of family household goods, pets, and children. After a 48th TFW family and home is expensively forward-deployed to England, the Air Force deploys their dad yet again for missions in the Middle East. Since Europe lacks large fighter training areas, squadrons from the 48th TFW routinely fly to Nellis AFB in Nevada for training. Obviously, the Air Force could save millions of dollars a year by moving the 48th TFW to the USA where it can train at American ranges and deploy to the Middle East, or to train with European allies, without the senseless household shuttles to England.
Over the next five years, the Air Force plans to retire 137 F-15s, 177 F-16s, and nine A-10s to save $3.4 billion. With the F-22 program ending with less than half the F-15s replaced, the Air Force is pondering which fighter wings to clip. It has hinted most will come from the Air National Guard, but has not explained who will fill their homeland defense mission. How can Generals claim they lack fighters to defend American territory when 72 are based in England?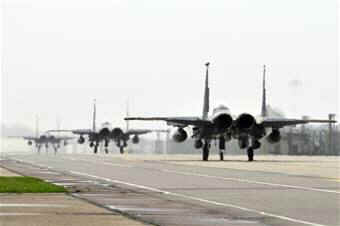 Air Force Generals have yet to present a plan to trim the excess infrastructure left after all these aircraft disappear. It is doubtful they will suggest another round of domestic base closures during a national economic depression. Closing American airbases while retaining an outdated airbase in England is unpatriotic and irresponsible. Moving the 48th TFW to fill emptied airbases in the USA is overdue. Since the base is officially a British RAF base, it would not close, and would be available should the 48th ever need to redeploy to help defend Western Europe from whatever threat may arise in the distant future. There would be no base closing costs or worries about local economic impact. The savings from closing Lakenheath would free funds to maintain a larger number of aircraft worldwide.
The U.S. Air Force would still have its large airbase at nearby RAF Mildenhall, England. Generals may oppose this idea because England is an interesting duty station, and most never support closing any of "their" facilities. The British will strongly oppose this move because it will cost them millions of dollars in annual business and thousands of jobs, although they will spin this into concern about maintaining a "close alliance" with the USA. If an American suggests they spend an equal amount to maintain a fighter wing at an airbase in the USA, they would laugh aloud at the wasteful idea.
The benefits of vacating Lakenheath far outweigh any perceived benefit of maintaining the 72 F-15s of the 48th TFW in England. This allows the Air Force to eliminate 3000 civilian and military base support positions. Fighters based in the USA are much closer to large training areas and available for homeland defense missions. The expensive overseas personnel rotations would be eliminated. Finally, several million dollars a year in U.S. military spending would flow back into the American economy rather than benefit the English.
Carlton Meyer editorG2mil@Gmail.com
©2009 www.G2mil.com