Marine Corps aviation is literally falling apart. Most aircraft are near the end of their expected life span, causing maintenance costs to soar and availability to decline. Pleas to Congress have secured more funding, but not enough. The biggest problem is the V-22 program, which has taken a long time to enter production and is costing more than planned. Meanwhile, the Marine Corps needs to replace it's ancient KC-130s now, and major funding for the production of the Marine Joint Strike Fighter (F-35) is needed starting in 2007. Funds are also needed to continue the increasingly expensive H-1 Service Life Extension Program (SLEP) to upgrade Cobra attack helicopters and Huey transports, and a SLEP for the CH-53Es is needed soon. Political support for more funding looks good, but no one expects the miraculous increase needed to clear the multi-billion dollar procurement backlog.
Marine Aviation must also deal with demands to leave its Futenma air station on the island of Okinawa, Japan. This airbase is located in a crowded urban area whose increasing agitated residents were promised in 1998 that the base would be closed within seven years. The idea of a new base on the northern part of the island has been considered, but concerns about costs, environmental damage, and long-term acceptance by nearby residents have led to an impasse. Even if an agreement is reached, all American military bases will suffer a funding shortfall for a decade as billions of Japanese base support funds are redirected to build this new airfield. Meanwhile, political protests and highly publicized liberty incidents have increased tensions and the Japanese government has reduced annual basing contributions. There is no magical solution to these problems, but relief can be obtained by adopting these five proposals.
#1 Scrap the CH-53Ds.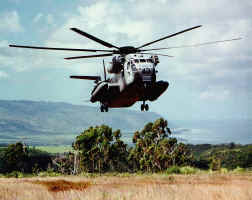 No one believes the Marine Corps will get all the V-22s it wants. In 2000, the total buy was reduced again, to 348. They are costing far more than planned and stretching production conflicts with other aviation funding. As a result, the Marine Corps cannot replace its current medium-lift helicopters on a one for one basis. Therefore, the Marine Corps should go ahead and deactivate a few medium lift squadrons, starting with the remaining CH-53Ds (right) in Hawaii; which are substantially different from the powerful CH-53Es.
While the CH-53Ds are slightly newer than the CH-46Es, there are only 44 left in service, and are not needed to support ship-based deployments. Unique parts are expensive since CH-53Ds are no longer flown by the US Air Force, the US Navy, and not even by the Marine Corps Reserve. More importantly, the 248 CH-46Es have recently undergone SLEPs, and serve as the backbone for forward deployed Marine task forces.
The Marine Corps should retire the dying CH-53Ds immediately to save millions of dollars in annual maintenance and planned upgrades. The "Delta" Marines would transition to V-22s or CH-53Es, thus increasing manning levels throughout the Marine Corps. If aviation funding proves adequate in a few years, two new CH-53E squadrons could be formed using the 43 Navy MH-53Es which are being retired, and sending them through the planned CH-53E SLEP program. The CH-53Ds are scheduled to begin retirement in FY 2006, scrap all of them this year and deactivate their squadrons.
#2 Assume most Navy's helicopter support missions in Sicily and Guam.
There is always talk of better integrating Navy and Marine aviation to save money and manpower. One option is to allow Marine helicopters to assume some Navy missions overseas. The Navy maintains a MH-53E helicopter squadron (HC-4) at NAS Sigonella in Sicily, and a CH-46D squadron (HCS-5) at Anderson Air Force base in Guam. If the Marine Corps assumed their missions, the Navy could deactivate two helicopter squadrons and free almost 1000 sailors for shipboard duty. The Navy would also save millions of dollars in operational costs plus the cost of replacing the aging aircraft in these squadrons. The Navy plans to buy dozens of MH-60S to fill this role, but funding has been cut and many Navy officers have argued they cannot fill the MH-53E role.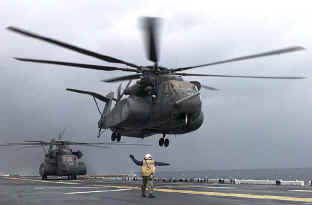 Sicily is the most strategic spot on the globe, and the sailors of HC-4 have been heavily involved in ground operations in the Balkans and Africa, often supporting Marines.
The Navy may wish to retain some helicopters at each location for specific missions, like detachments for vertical replenishment. However, the Marines can easily assume most missions in exchange for promises that savings will be redirected to the naval aviation procurement budget. The Marine Corps already maintains maritime pre-positioned ships in Italy and Guam, so Marine helicopters based nearby could support training exercises and operations. In addition, the Marine Corps does not pre-positioned helicopters, so they must fly or ride ships from the United States. This is a lengthy process which strains these aging aircraft. Positioning more Marine helicopters overseas will not only save money, but greatly enhance the readiness of the entire Marine Corps to intervene overseas.
#3 Shut down flight operations at MCAS Futnema.
Okinawa is a strategic location, but the four Marine helicopter squadrons at MCAS Futenma would have no real impact in the unlikely event that the powerful nations of Japan, China or the Koreas began fighting. If the USA did become involved in a conflict, Okinawa airbases should expect missile and aircraft attacks. In contrast, Guam is much farther from mainland Asia, and closer to the South Pacific which has several unstable nations. Marine helicopters based at Guam would be safer from attack and nearer to areas of turmoil where they could make a difference. The Air Force downsized Anderson AFB several years ago so space is available on Guam; it even has vacant family housing units.
The Marine Corps cannot afford to waste resources and political capital to maintain four squadrons at Futenma where they are vulnerable to attack, not wanted, nor truly needed. The Marine Corps must adjust to a changing world and give up efforts for a new airbase on Okinawa. The Japanese government, which has been concerned about the estimated $5 billion dollar cost to build a new airbase, would be enthusiastic to contribute a billion dollars to build new facilities at existing airbases. One large composite squadron HMM-262 (rein) could move to nearby Kadena Air Force base, MAG-36 headquarters could move to Hawaii, and the other three squadrons could move to Hawaii, Guam or Iwakuni, Japan.
The Air Force may object, but HMM-262 is part of the Okinawa-based 31st MEU, and some Marine helicopters must remain to support infantry training. Given the current tensions on the island, the Air Force should support this plan, especially if it brings new construction funding to Kadena. Otherwise, civilian leaders could exert pressure by suggesting the Air Force turn over all of Kadena to the Marines and disperse squadrons to other US Air Force bases in the Pacific.
#4 Realign helicopter basing worldwide.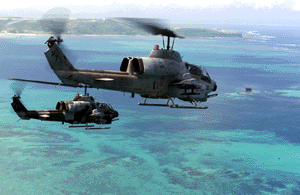 If the Navy vacates space for Marine helicopters at Guam and Sicily, the Corps should forward deploy more Marine helicopter squadrons. For example, only one CH-53E squadron is based overseas; at Futenma. It may be possible to base one at Sicily, and two in Hawaii (which could provide detachments for HMM-262 at Kadena), and one in Guam. These squadrons could move from crowded MCAS Miramar, which would pacify some noise sensitive San Diego neighbors who are upset at their arrival from recently closed MCAS Tustin. Navy HC-4 in Sicily maintains two aircraft at NAF Bahrain, in the Persian Gulf. Basing 16 Marine helicopters at Sicily could support more helicopters in the Gulf.
The possibility of maintaining Marine aircraft at other strategic US Naval Air stations should also be considered, like Rota, Spain; Roosevelt Roads, Puerto Rico and even Key West, Florida. The formation of composite (HMC) squadrons at overseas locations should be considered; which could have a helicopter mix like: 8 CH-53Es, 6 AH-1Ws and 3 UH-1Ns. Helicopters based overseas can support and augment deployed MEUs and carrier battle groups, and provide immediate transport of forward-deployed FAST platoons. The exact plan will depend on resources, political acceptance, and base capacity, but many exciting options exist to station more Marine helicopters all over the globe, rather than keeping them all on Okinawa. These bases will require Marines to augment base support activities, but the shutdown of MCAS Futenma will free hundreds of Marines for potential reassignment. The Marine Corps needs to study options to forward-deploy helicopters with a combination of permanent based squadrons and six-month rotations of squadrons, detachments, or TAD crews from CONUS bases.
Placing Marine helicopters at more overseas bases would also improve retention. Most young Marines enjoy their first tour on Okinawa, but the thought of a second, third, and even fourth tour to a small island with tight liberty restrictions hurts the retention of pilots and expensively trained enlisted personnel. Even aviation training around the small, isolated island of Okinawa becomes dull. On the other hand, the chance to deploy and train in places like Guam, Hawaii, and Sicily will generate great excitement for a career in the Marine Corps.
#5 Bring back the OV-10 Broncos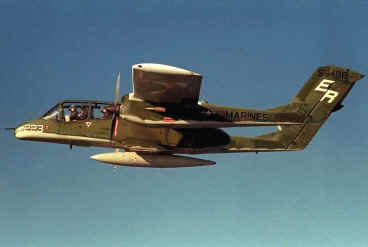 After the Gulf war, the Marine Corps' "Fighter Mafia" preserved 19 F/A-18 fighter-attack squadrons by eliminating the Corps' three OV-10 squadrons. This was criticized by many infantry officers in the pages of the Marine Corps Gazette because nothing replaced the OV-10, which is ideal for the low-intensity wars of today. Broncos had operated from LHD/LHA helicopter carriers to provide instant reconnaissance and intelligence to forward-deployed Marine units. The OV-10Ds were upgraded in the 1990s and then retired and placed in storage. The Corps has just received an increase in manpower which it could use to stand up these squadrons within a few months. There are still hundreds of Marines on active duty with the skills to operate and fly Broncos. If funding is a problem, the Corps can cut two F/A-18C squadrons with little impact; the Navy desperately needs F/A-18Cs to fill shortages.
The US Air Force, Navy, and Marine Corps have thousands of fighter-attack aircraft, but no OV-10s. Broncos were critical in coordinating strikes in Vietnam. Satellites and UAVs cannot substitute for the situational awareness of two Bronco crewmen circling overhead. This is one reason the Air Force and Army are finding it difficult to coordinate activities in Afghanistan. Marine OV-10s are needed in Afghanistan and aboard ships today, and can be there in a few months.
Marine Aviation must adapt to a changing world. The deterioration of Marine Aviation is giving rise to pressure for radical change by civilian leaders. Proposals have appeared to pull all Marines out of Okinawa, eliminate Marine fixed-wing aircraft, and turn over MCAS Miramar for civilian use. If the Marine Corps does not take immediate steps to prove itself a flexible organization and respond to civilian concerns, outsiders may intervene. These five steps to reorganize Marine helicopter forces can be accomplished in a few years and immediately save money and relieve political pressures. Most importantly, it will place Marine helicopters in more strategic areas and provide better training for Marine Air.
Carlton Meyer editorG2mil@Gmail.com